Wellcome to our Coton de Tuléar website - Flores del Té
Kennel name: Flores del Té - In Málaga (Spain) - With FCI pedigree - Affix RSCE nº 18733
Email: floresdelte.coton@gmail.com
We have shared our life with the little Cotons for several years now. Our first coton came home in 2008 and "hooked" us in such a way that the family grew ... and our life was changing ... and we no longer conceived life without them. These white-haired balls are irresistible! ...
We have litters occasionally. We do it because we like it and we want to maintain and improve this breed we love so much. We look for good stud dog and females, and avoid inbreeding. Our goal is that our cotons are a good reflection of the standard of their race and be sociable and very very sweet.
We pay special attention to the health of the breed. That is why all our cottons have their DNA tests and are free of genetic diseases. We also check the knees and the eyes. Our breeding is responsible.
From time to time we go to canine shows. The goal is to have the confirmation from the judges that our work is correct. But we don't live for the shows... and we don't have our dogs in a vase. Our cotons play, get dirty ... and enjoy life.
The puppies are breeding with us, in our house and are members of our own family until they go to live in their new homes. We like to keep in touch with all of them, so if you bring a Flores del Te puppy, you will become part of our family.
All of our puppies carry their EU passport and microchip, enroll in the LOE and are vaccinated and dewormed.
---
NEW PUPPIES ARE BORN ON MAY
PARENTS: JESPERSEN'S BALI MYNAH & QUITE DIVINE BORA
---
GRACE KELLY, GISELE BUNDCHEN, GLAMOUR AND GEORGE LUCAS DE FLORES DEL TÉ
PARENTS: JESPERSEN'S BALI MYNAH & HANA THE SWEETEST COTON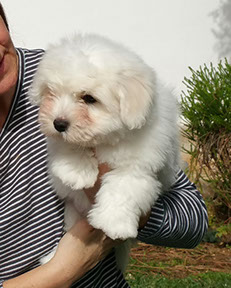 ---
FENG SHUI, FUYUKI AND FIJI DE FLORES DEL TÉ
PARENTS: JESPERSEN'S BALI MYNAH & HANA THE SWEETEST COTON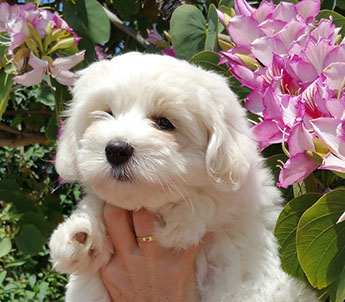 ---
Hana The Sweetest Coton; born on January 29, 2015
---
Our male Jespersen's Bali Mynah
---